Las Vegas Air Duct Sealing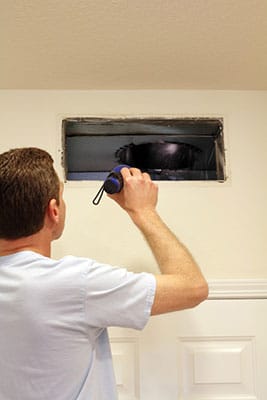 Maintaining your Las Vegas home at a comfortable temperature requires ductwork that can efficiently move hot and cold air throughout the rooms of your home. Ductwork that has been properly installed and tightly sealed will not only increase the efficiency of your heating and cooling system, but will also improve the air quality of your home. Professional air duct sealing will allow you to get the highest level of performance from your HVAC system. If you have noticed a decline in your heat and cooling efficiency, Ideal Services has a team of qualified technicians to provide your home with quality ductwork inspections and duct sealing that will make living in Las Vegas more comfortable.
Benefits of Professional Duct Sealing in Las Vegas
Poorly sealed air ducts are a major cause of energy loss in a home and are often to blame for reduced heat and cooling efficiency. The ductwork in your home may have leaks simply from years of use, producing problems in comfort levels and energy bills. If you have concerns regarding the heat and cooling efficiency of your Las Vegas home, contact the professionals at Ideal Services today and schedule a thorough air duct inspection and testing. If our qualified technicians find any issues from air leaks, you can trust those issues will be resolved with Ideal Service's air duct sealing services.
Duct sealing will provide your Las Vegas home with a number of benefits including:
Reduced Energy Bills: When poor duct sealing is present, up to 20 percent of the air moving through your ventilation system can leak out, wasting energy. Investing in professional air duct sealing by Ideal Services will result in increased home and cooling system efficiency and reduced energy bills.
Improved Air Quality: Leaking air ducts can allow for dust and debris to enter your home's heating and cooling system and consequently, that same dust and debris is then blown into your home damaging the air quality you breathe in. With superior air duct sealing by Ideal Services you can reduce the amount of contaminants entering your HVAC system and significantly improve the indoor air quality of your home
Extend The Life of Your HVAC System: In addition to risk of contaminants entering your heating and cooling system, poor duct sealing will also cause it to work harder in order to maintain the desired temperature of your home. Proper duct sealing will keep your system working efficiently and help prevent malfunctions or costly repairs.
Call the licensed professionals at Ideal Services at (702) 396-5225 today for a free estimate on air duct sealing that will not only help make Las Vegas a better place to live, it will make it Ideal Services.
We Take Pride In Our Service. If You Have A Complaint And Would Like To Speak To Upper Management, Call Us Directly @ (702) 396-5225